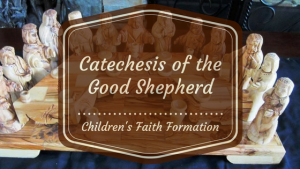 The Catechesis of the Good Shepherd is a Montessori-based method of spiritual formation for children, beginning at age 3. It seeks to create and facilitate a 'hands-on' space for children, called an atrium, in which both children and adults can hear, ponder and celebrate the most essential mysteries of the Christian faith, as revealed in Scripture and Liturgy.
Originally developed in Rome by Sofia Cavalletti and Gianna Gobbi, the catechesis continues to spread world-wide and is used, with adaptations, by various Christian traditions.
Young children in our preschool, elementary school, and PSR program all take part in the Catechesis of the Good Shepherd program as part of our faith formation curriculum.