"An appetizer is meant to stimulate your appetite, making you extra hungry for your next meal."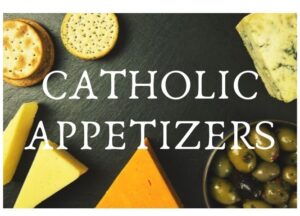 Catholic Appetizers is a group within our Parish community formed for the purpose of discussing how to live out our faith in today's world and strengthening our parish bonds in a spiritual but informal setting. The end goal (main meal) would be to produce a greater understanding of our Catholic faith so that we will be able to go out and light the world on fire as the early Christians did.
We typically meet every third Monday from 6:00-8:00 in the Saint Cecilia Room throughout the year.  All are welcome to attend and enjoy some fellowship time, great conversation and of course food!
Contact: Susan Baker at smgb57@gmail.com