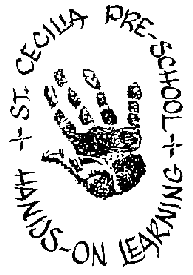 Mrs. Trisha Jakubick
Director
tjakubic@cdeducation.org
Phone: 614-878-0134
Philosophy:  St. Cecilia Preschool will strive to foster the wholeness of the individual child. Our goal is to have a safe and loving atmosphere where a child can explore and discover through interaction with his/her environment. Opportunities will be provided to use and share existing skills and learn new skills which will help the child establish positive self-esteem.
 Due to the Department of Education Licensing Standards regarding preschool programs, the policies governing St. Cecilia Preschool are separate from St. Cecilia Elementary School and should be followed as such.